Ideas

Dear users,
As some already noticed, our app BLACK for Facebook has followed the same destiny of it's predecessors JDB Facebook and Booklet: They are all no longer available on the Store, due to Facebook complains about using their name and pretty much any "f" or words like "face" or "book" kind of belong to them (according to them).
Through the years we tried hard to keep them alive, changing names, logos, styles, etc but can't keep fighting the monster any more.
Hopefully we still have a savior (in fact the grandfather, the master of all) even when drastically reduced in its core functionality by brute deprecation of Facebook APIs who once allowed it to be a full featured social+location app, regardless of that is still alive: Social Scout
So if you ever used JDB, BLACK or Booklet, you can find the most of their functionality in Social Scout.
This is what you can do:
Install Social Scout
Run the app, sign-in
From the main screen, swipe to the right
Tap and hold the "JDB Facebook" tile and press "pin to start":

Rate the app and spread the word
With that you will have a tile in your Start screen. If you open it you will get the white theme by default but you can change it to black through the settings: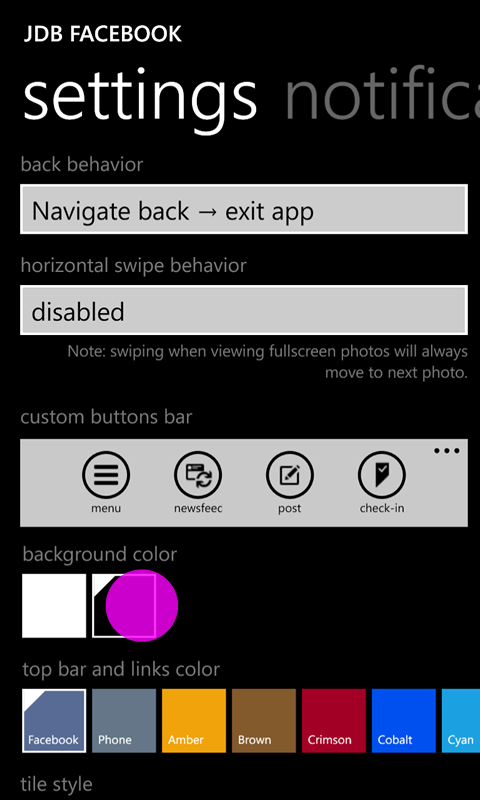 If you had the paid version of the now absent apps, please forward your purchase receipt or a screen capture from https://account.microsoft.com/billing/orders#/ showing your purchase, to mail@jdbp.mobi and we will grant a free license to Social Scout.
Thanks for your comprehension.
Regards
JDB