News

A few months ago we announced the
new features
and licensing modes for
Handyscan
.
Today we are adding more benefits to Premium/Business users. Before, a Premium user could purchase a pack of either 31 or 365 days. After time passed those packs expired, even if the app wasn't used at all during that period. This was not fair and a waste of money in case you only use the app rarely and not on a more frequent basis.
So thinking about this we included "free services" on each pack. This means that you have guaranteed a minimum of "services" within your purchased period of time. A "service" is either a PDF conversion or a direct email sent with attachment (those actions who use our cloud platform).
For example: You get the 1-month pack and after a month is passed you never created a PDF neither sent a scan as an attachment. In this case you will still have 60 free credits (not restricted to time) to make PDF conversions or send emails with attachments.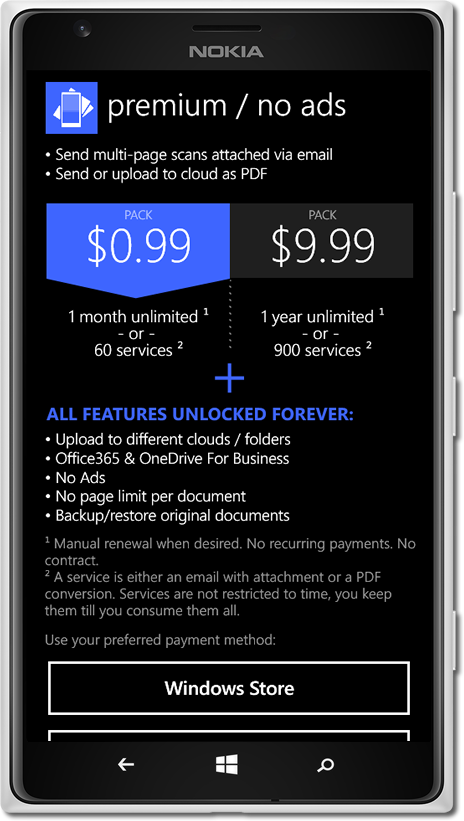 By doing this we are ensuring a greater value to your money!
Also, when the pack expires, you will
keep the other features as a full app
(no Ads, upload to different clouds/folders, no pages limit per document, backup/restore, Office365 support).
This will apply to all existing Premium/Business customers. For the rest, your are welcome to
get Handyscan today
.
Regards,
JDB